Best PaySafeCard Casinos
Paysafecard Overview
Paysafecard is a voucher-based payment system that allows you to use a prepaid method to fund your casino balance. As part of the Paysafe Group, the method has enjoyed quite the reputation alongside Skrill and other payment methods supported and acquired by the group.
Paysafecard casinos are quite popular because of the safety this method offers. The card is in no way connected to your bank account and you prepay the available amount of money.
That limits overspending at a casino and removes the risk of exposing your financial information. All you have to do is buy the vouchers, available at different denominations.
How to Deposit Using Paysafecard?
Paysafecard payments are available for 40 countries, and the vouchers support 17 different currencies at the moment. You'll most likely be able to use a card with your currency, and not lose from currency conversions. Alternatively, if the casino you play at doesn't support your currency, you can buy a voucher for the ones it does.
That's the first and most important thing! If you're considering Paysafecard casinos for your bets, make sure you buy a voucher first. Each voucher is associated with a 16-digit pin code you'll be using to make online transactions. Vouchers can be in denominations from €10 to €100 or the equivalent in another currency, and you can buy as many as you wish.
Once you have vouchers at hand, the process is quick and easy:
1. Log into your Paysafecard casino account.
2. Navigate to the deposit section and locate the Paysafecard option.
3. Enter the amount you wish to deposit and your 16-digit Paysafecard PIN.
4. Deposits using this method are instant, you'll immediately be able to start placing bets.
Do keep in mind something important! You can use as many vouchers as you wish to fund your casino balance. But you're also able to use just a part of the amount associated with a given PIN, no need to transfer all the money from a single Paysafecard pin.
Example:
Let's say you have a voucher of €100 and you wish to deposit. But you want to deposit just the minimum your casino of choice accepts, which is, let's say, €25. When you make the transfer using Paysafecard, you input the desired amount and the PIN to be charged. You'll be left with €75 in your Paysafecard voucher.
How to Withdraw Using Paysafecard?
The process is very much the same as depositing but in reverse. It is advisable to have a My Paysafecard account if you'll be using the method at Paysafecard casinos, just to keep track of your vouchers and codes.
Once you decide to withdraw from a casino, navigate to the Cashier page and select this method. Keep in mind that not all casinos allow Paysafecard to be used as a withdrawal method. It also has lower limits for the maximum withdrawals you can make using it.
Those limits, though, would vary from one casino to the other, usually between €10 and €1,000 per transaction. Make sure you understand the casino-specific limits regarding each withdrawal method as to avoid disappointment when withdrawing.
Once you've entered the amount you wish to withdraw, processing your request should not take more than 24 hours. Once the withdrawal has cleared, it will become immediately available in your My Paysafecard account for further use.
Don't forget that in order to be able to withdraw in the first place you need to have cleared the wagering requirements, if you've claimed a bonus, and to have confirmed your identity. Our advice is to verify your identity as soon as possible to avoid delays when deciding to withdraw funds.
PaySafeCard Fees & Time-Frames
One huge advantage of Paysafecard casinos, in terms of fees, is that you don't have to pay fees for using the PINs and vouchers. Paysafecard makes money from the operators. Of course, there are instances when you'll be charged feels, like administrative fees on an annual basis.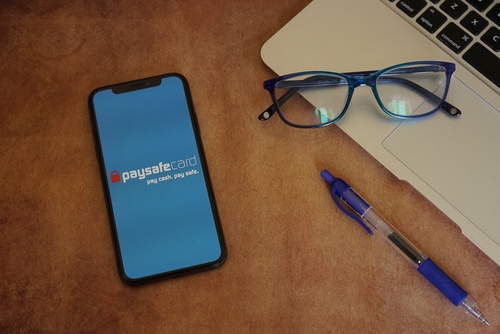 If you want to reimburse money from your vouchers, there are associated fees, as well, that would vary depending on your location.
And you might expect to face a conversion of 2% if the currency of your PIN and the one you want to deposit in at the casino are different.
As for time frames, funds clear immediately after they've been processed. Deposits will appear instantly in your balance.
Casinos have varying time-frames for processing withdrawal requests, but once it's been processed, you'll receive your money instantly.
If your withdrawal is pending for a while, we advise you to reach out to your casino's customer support to clear out the situation.
If you'll be withdrawing from Paysafecard to your bank account, be prepared to undergo an identity verification process and to face fees that would vary depending on your location and account currency.
Keep Track of Your Transactions
Paysafecard has been made for convenience and security. If you register for a My Paysafecard account, you'll have direct access to all your financial information regarding that method.
In your account, you'll be able to monitor your activity and available balance for each and every PIN you have in your possession. You can also monitor which are nearing the 12th month since they've been purchased, to know which would incur administrative fees soon.
In terms of casino withdrawals and deposits, we advise you to monitor your casino account. Paysafecard casinos have the sections necessary to track your transactions and their statuses – pending or processed.
Because of the available anonymity, you might choose not to create an account, despite using the method at Paysafecard casinos. Still, it's been made easy to monitor your activity, and you can check the balance of a PIN you have. However, we advise you to open a My Paysafecard account for your own convenience.
Customer Service
In case you need any assistance with your Paysafecard, you can count on different methods of communication. Their support is responsive, and you won't wait long to receive help if you can't find the answers you need.
Because you do have the ability to search for your answers. There's an extensive FAQ section on their website with detailed explanations of various situations. We advise you to research your query there first. If nothing pops up, which is doubtful, reach the teams on their dedicated email.
An international team takes care of all of your queries. Paysafecard is accessible in more than 60 languages and you can receive tailor-made assistance depending on your location. Their team strives to process all tickets within the same business day, so you're not expected to wait long for an agent to help you.
With Paysafecard, you can rely on professionalism at all times! You can also turn to the agents in the offices that distributed the vouchers at your location.
FAQs
Why Is Paysafecard so Popular?
The popularity of Paysafecard can be explained with the anonymity it offers, the swift transactions, accessibility, and versatility. Available in dozens of countries worldwide, with dozens of currencies accepted, you'll most likely be able to use it as a payment method at your favorite online casino.
How Safe Is Paysafecard?
Your bank account is not linked to Paysafecard. That's the main difference with more online payment methods. All of your financial information is secure, and the only accessible money is the money associated with your PIN. You won't overspend when gambling!
How to Set Up a Paysafecard Account?
Setting up an account is free and quick. All you have to do is fill out the provided form. Refer to our review to have a look at potential fees in a year's time, and why it's better to have a My Paysafecard account, in general.
Who Can Open a Paysafecard Account?
You must be at least 18 years old if you want to use your PIN and vouchers to make payments online. If you are, and as long as the prepaid method is available in your region, you can open a Paysafecard account.
How Fast Are Paysafecard Transactions Processed?
Both deposit and withdrawal transactions happen instantly. Different Paysafecard casinos have different processing times. But once your withdrawal clears, the money is immediately transferred to your dedicated PIN.
Conclusion
The Paysafecard prepaid method is very convenient for players who want to stick close to anonymity, but at the same time – value the security of their money. When you use that method for gambling online, you won't be sharing any financial or personal data.
In addition, if you're an international player, you can still take advantage of that method. It is available in dozens of countries and accepts dozens of currencies. It's easy and quick to sign-up, and you won't be paying any fees. You can count on versatility and professional customer support. And, it's always the right time to use a secure payment method!
Top Paysafecard Casino for September